For a long time our icon sets composed of Googled images cut out in Photoshop. They were bad. They were ugly. They may have violated copyrights… lol.
No more! We have purchased licensed professional icons sets and have implemented a good amount of them into our WebGL MMORPG. We still have to replace a lot of items, but spells, consumables and even talents have received a fresh coat of paint.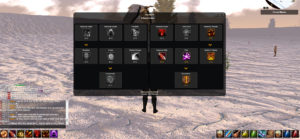 We should have done this a long time ago. Oh well, better late than never.
We've also improved the spell bar / equipment bar interface. Swapping and sorting spells and potions is a lot less frustrating than it was. I'm pretty happy with the results.
Oh and we are working on another huge aesthetic upgrade. An expensive upgrade… It will be worth it. More details to come!